Rumors about brand new Indian Motrorcycles® models have been running around for a while now. Dealers and riders, thanks to a couple of leaks, are aware of the models that the Springfield based company will launch in 2020: Challenger 108 and Roadmaster.

Let's dive into all the news, details and info we have on this brand new Indian models.

New Indian® Challenger 108
It is real and it is confirmed: 2020 will be the year of the Challenger 108. This news was leaked directly from Indian® dealers meeting during the projection of the company planned models for 2020.
The engine
Powerplus 108 engine, a liquid cooled 1.770 cc 60° V-Twin.
It has the very same name used for Indian® engines produced between 1916 and 1924; a nice touch from Indian® that will definitely drive crazy everyone who is in love with the iconic brand history. I am exited already!

This engine, designed by Victory in 2017, will be a water-cooled 60° V-Twin expected to produce 120 HP.
Frame and look
The engine will be placed in a next generation aluminum frame that is said to be very different from what we are used to see.
Big news in the suspensions department too: according to early reports, the front fork is supposed to be upside down.

Challenger 108 will be a pure tourer with shapes in line with competitors that belong to the same category. It is no secret that its main sales rival will be Harley Davidson Road Glide.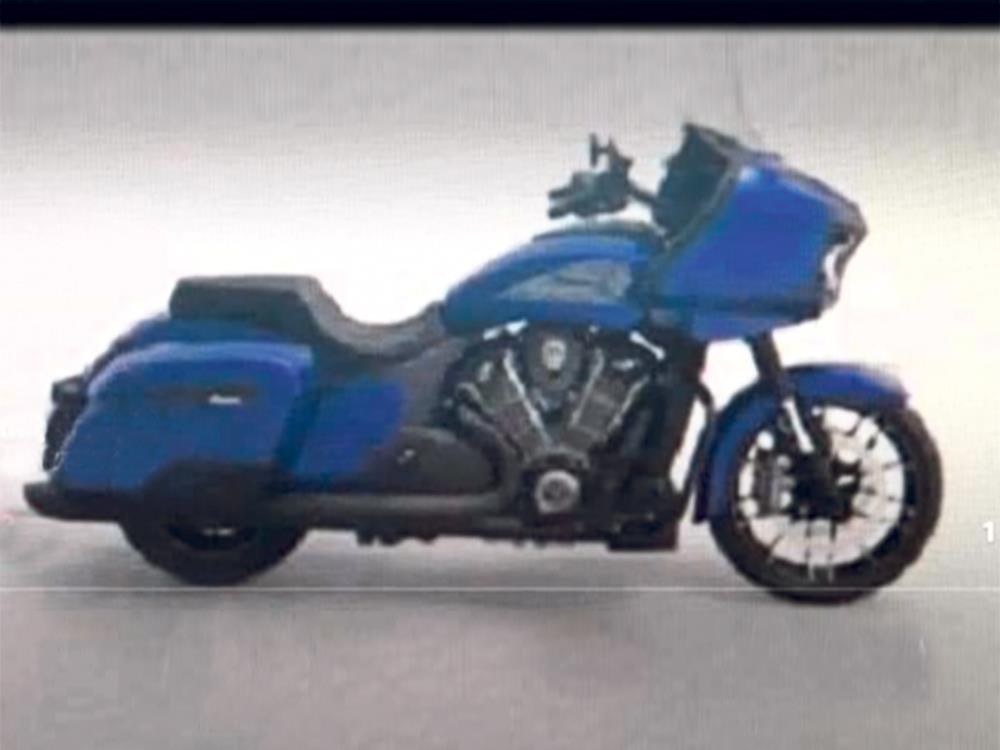 I cannot wait to actually see Indian® official presentation, pictures and promotional videos. The wait is killing me. Indian® might unveil it during 2019 Sturgis Rally so, if you happen to be there, you might have the chance to give it a closer look.
Indian Roadmaster, 2019 l'Elite Limited Edition
Roadmaster is a pure tourer that this year will make everyone fall in love with its 2019 version: Roadmaster Elite Limited Edition.
An incredible motorcycle, hand painted and finished with hand placed 24 karat gold leaves. Engine is the same as all other Roadmaster models: the Thunder Stroke 111.


This version of the Roadmaster is equipped with a premium consolle, that rocks the famous Power Band Audio Plus: 600 watt audio system with a dynamic equilixer; the volume auto-adjust it self while riding to guarantee the proper sound quality in every condition.

A 7 inches screen, compatible with gloves, gives access to the powerful Indian Motorcycle Ride Command, which provides gps, custom info and connects to your smartphone. Nice, isn't it?

We are not finished yet:
Roadmaster also offers heated grips, remote lockable bags and an electric windshield.
Indian® FTR 1200
The word is that Indian® is planning to turn its FTR 1200 into a "platform", from which develop other models. The idea is to go out and conquer every motorcycle segment.

In Indian® all departments are working hard to not only compete with Harley-Davidson in the custom market, the whole idea is to go compete with brands like Honda and Yamaha to mention a couple of them.

Hot things will come up this month, if Indian® decides to unveil anything, at the end of Sturgis 2019 we will have a better idea of the brand plans for 2020. I cannot wait to learn more about this and other models, and to see what the competitors answer is going to be!

Se you around!
Planning a trip? The 8 best to do in Big Sur
Quality Rides With You